Releases for older versions of Mac OS X:
14 November 2017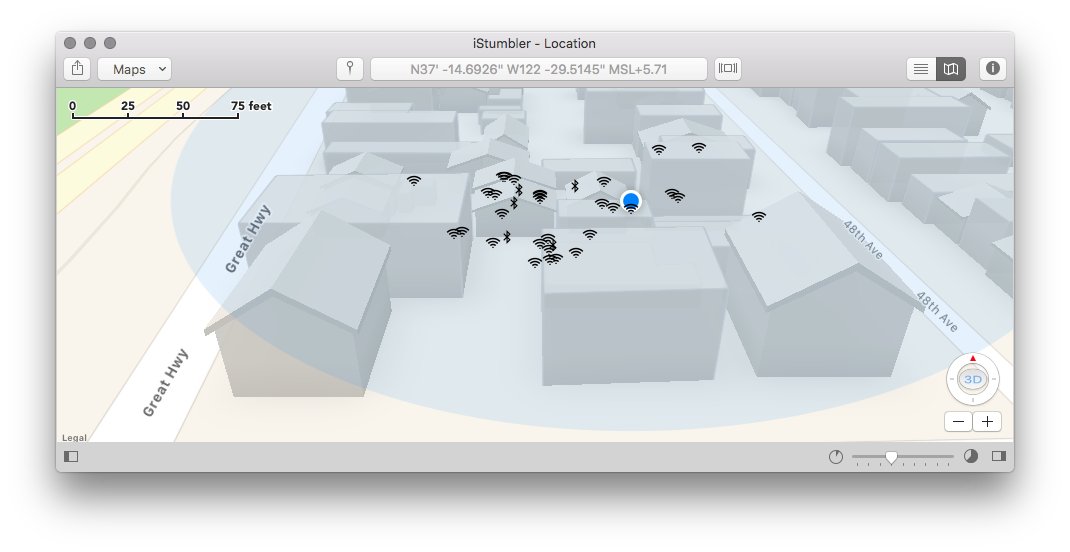 Added Live Map view to Location Plugin
Added Bluetooth LE Support to the Bluetooth Plugin
Added Real-Wave Spectrum view to WiPry Plugin
TouchBar support for opening or switching between plugins
Many many assorted bug fixes and enhancements
Release 103.2 fixes issues with older versions of macOS
Release 103.3 fixes issues with Wi-Fi plugin not loading on some system
Release 103.4 fixes the store (whoops)
Release 103.27 introduces Spanish localization and a long list of bug fixes
Release 103.28 I heard you like bug fixes, so I fixed some bugs in the last round of bug fixes
Release 103.31 restores macOS 10.10 and 10.11 support
Release 103.36 Better behaved when War Driving in the Mojave
12 April 2017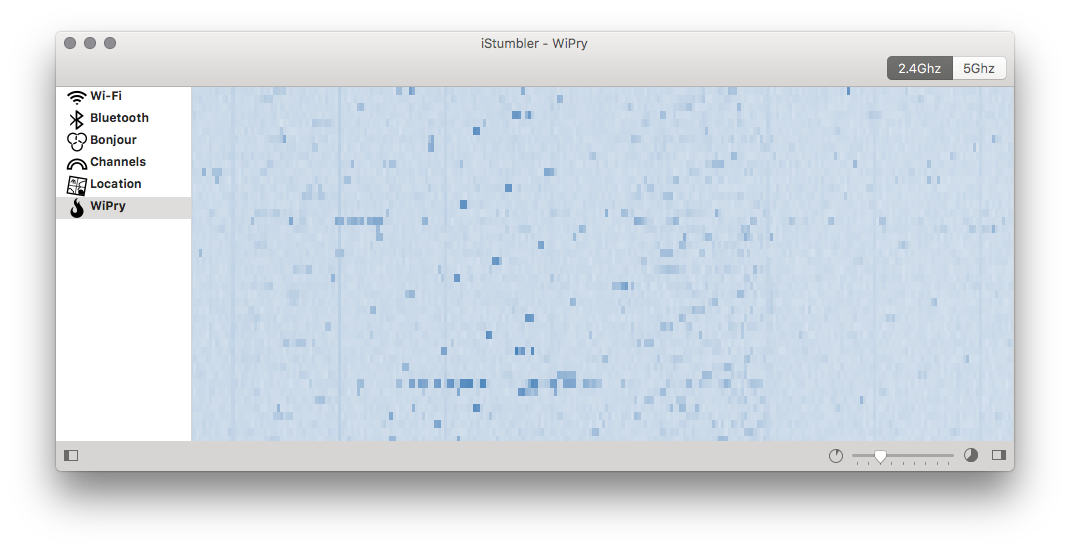 iStumbler 102.2 Bugfix Notes
Updated vendors.plist
Added new Log and License preference icons
Fix several Wi-Fi monitor issues (double click on a network in the list)
Fix for potential crash in Bonjour plugin
31 March 2015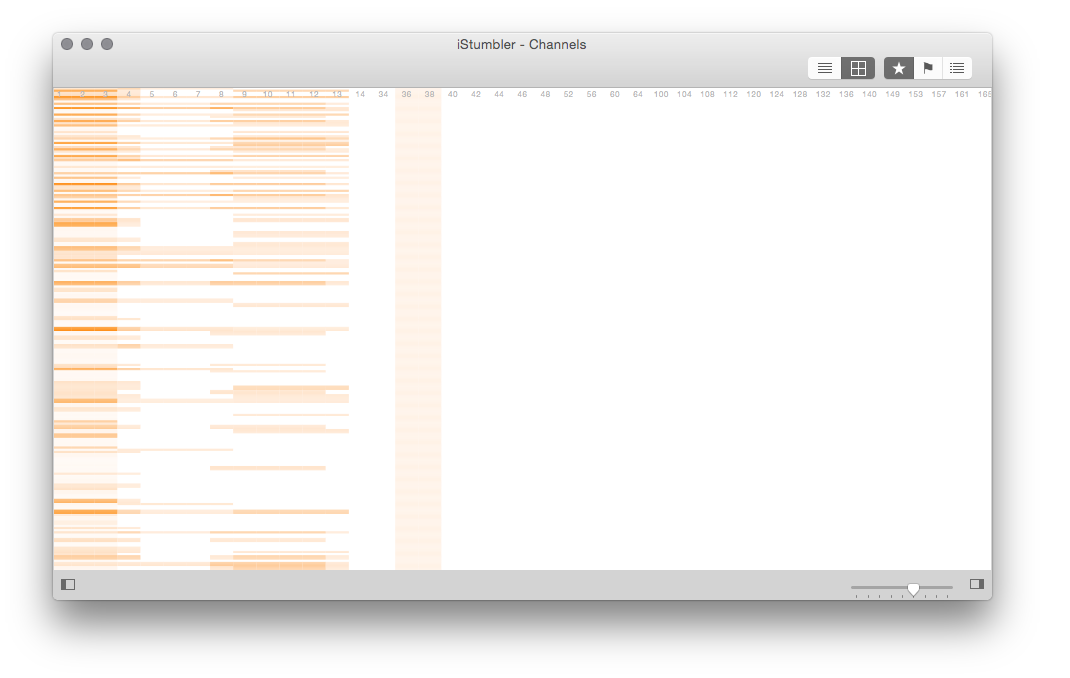 iStumbler 101.5 Bigfix Release Notes


Overall Performance and Reliability Enhancements (lots of bug fixes)
Resolved all reported Crash, Exception and Error reports (thanks to the amazing ReportWindow!)
Wi-Fi Inspector: Partial Information Element Parsing and Display, selected tab is saved
Location Plugin: Restore functionality lost in the Release 101 Update
Location Plugin: Remove Yahoo maps, have the list of map services update via LiveBundle
LiveBundles: vendor and channel info updated for all versions of iStumbler Release 101
LiveBundle framework created
ReportWindow framework updated
CardView framework updated
Channels plug-in rises from the ashes of the Spectrum widget
Added Channels and Regulation information to RadioStore, updated with LiveBundle
Improved sorting of Wi-Fi table view
Updated Wi-Fi info to use CardView
RadioStore updated to include location information and scan records
Command+L now hides and shows the plug-in list
26 June 2014

100.123 Bugfix Release


Updated licensing plugin to make the customer experience better.

Open License button in License prefs makes importing a license easier
License Search tries to find any licenses in your home folder and asks if you want to load them
Duplicate License Detection allows you to move old license to the trash if you receive a new one from support
License Help button in iStumbler Store connects you to support if you're having trouble
Fix an exception triggered if a network has a nil SSID
Tidied up iStumbler Preferences a bit

100.122 Bugfix Release


Include email of licensed users in report for followup.
If Error or Exception recovery fails, file a report.
Use CardView to display license details. Much nicer!
Minimum window size is now 600x200 to prevent auto layout exceptions
No longer report AXExceptions (which are apparently normal)
Added ILExceptionRecovery class to ReportWindow framework
Update Sparkle (Includes modal window bug fix found in development)
Attempt to recover from some cases of RadioStore corruption

100.120 Bugfix Release

100.117 Bugfix Release


Fixes crash if Bonjour Service resolution fails
Cleanup of Bonjour toolbar and service icons

100.115 Bugfix Release


Info and Plugins panels now snap shut when near window border
Timeline sliders are now synched between windows
Info panel no longer gets stuck closed after visiting Location plugin
Window positions are now saved between launches
New windows always open with a plugin
Minimum font size is now 6pt (happy now NSA?)
Preferences for check for update, daily or weekly, auto-download
Bonjour browsing performance and reliability improved

100.104 Bugfix Release


Integrates "Let's Move" to put iStumbler in Utilities on first run
Fixes font-size bug from 100, you can now scale all fonts from 9 - 24pt throughout
Adds new 'Hairline' and 'Boldline' drawing options for the charts
Tweak the location format so the degrees, minutes and seconds symbols are back at the top-line
Fixes bug that prevents quitting the app when the store sheet is on screen
Prevents editing of the Location table, leading to a crash
Offline store page is back online
Log prefs renamed to 'Logging'

100.92 Re-introduces Sparkle
100.90 Fixes Wi-Fi Preferences Crasher
Integrates Stripe payment processing for credit cards, with direct license download
100.88 Fixes Log Preferences
Fixes issue with store prompting after a license is loaded
Spiffy New MAC address formatting
New graphs. S/N Graphs as sparklines in the Wi-Fi and bluetooth tables
multiple windows, along with a unified window design
reorganized info panels - more info, less clutter
units throughout - better formatting in the tables
updated graphics - some things still need to be updated but the wi-fi locks are nice
so many other changes I forget, and lots of fun new bugs
who goes a year between release candidates and ups the OS requirement by one major version!?
Fixed crash in the Bonjour plugin, improved name resolution performance
Hi-Dpi icon for fancy new MacBook Pros (see above)
Adopts ARC for memory management
Signed for Gatekeeper
Scan Tables in AirPort and Bluetooth plugins can now show results for the last scan only
Signal and noise percentage calculation improved to take channel width into account, channel width shown in scan table
New icon, redrawn from scratch in the amazing and wonderful iDraw
CRASH! This build contains a crashing bug which occurs some time after the Bonjour plugin is selected, fix is in the works
Fixes a crash when browsing large bonjour networks
Starts Bonjour browsing when you activate the Bonjour plugin
Starts Bluetooth inquiry when you activate the Bluetooth plugin
Fixes crash when bluetooth is turned off
Improves Bonjour browsing performance
Fixes crash on quit
Built on Mac OS 10.7 Lion
Fixed a crasher in the presence of Wi-Fi networks with an empty SSID on [REDACTED]
Fixed a crasher in the Bluetooth plugin on [REDACTED]
Persistent Data: Core Data migration is complete and iStumbler now saves data across sessions
Sample Coalescing: Samples are grouped and averaged as they age to allow for storage of years worth of historical data
Re-introduced the slider in the lower-right corner of the window, now controls the amount of history visible in the table
Graph time-scale changes to show data for longer time periods (up to one week of historical data)
Fixed a first-run issue with the toolbar style being set incorrectly
Rejiggered the Wi-Fi and Bluetooth toolbars to make them similar
All toolbars are the same height, buttons and graphs are enlarged
All MAC addresses are displayed in canonical format:

0x:0x:0x:0x:0x:0x

Restored logging output for Wi-Fi and Bonjour messages, log font changed
Updated OUI Vendor database, now contains almost 15,000 entries
Resolves threading bug in the Bonjour plugin that lead to UI lockups
Alphabetize Bonjour domain and host name columns
Improvements to Bonjour Browsing with wide-area domains and large networks
Growl Notifications for Bluetooth devices now include the device icon
Wi-Fi Scans and Bluetooth inquiry results are reported in the status line
Last seen column now correctly computes hours and days
Performance improvements when displaying large numbers of samples
Distance and Bearing Columns in Location plugin are now properly formatted
Buttons upgraded
Bluetooth Plugin now shows signal strength and graph for connected devices
Last seen time is now displayed in hours, minutes and seconds ago instead of a date
Refined Data Model for improved performance
cleaned up a few small memory leaks
Transitioned to CoreData for in memory storage of radio info
fixed layout of 5ghz bands in spectrum plugin
fixed crasher in the presence of open networks
switched to the LLVM compiler
adds a new spectrum plugin
adds a new plugin task engine
this build is 64 bit only
16 February 2010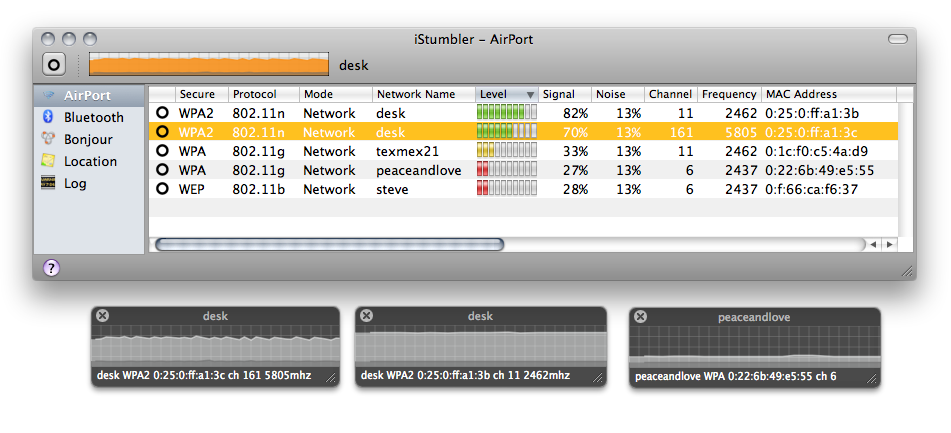 Updated the AirPort Plugin to work with CoreWLAN on SnowLeopard.
AirPort Monitor updated to use the HUD window style and support for multiple monitors
Updated the Location Plugin to work with CoreLocation on SnowLeopard
Bluetooth Plugin now performs SDP queries to get service types for the inspector
Numerous small bug fixes, incomplete features removed and general cleanup
4 February 2007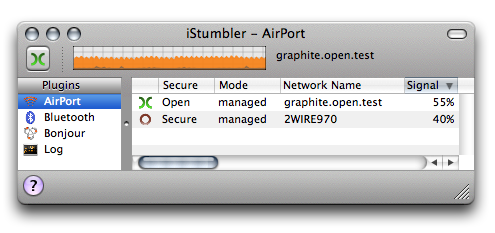 Re-written AirPort plugin now correctly reports signal for all AirPort chip-sets, provides more information about all networks.
The info window is now resizable.
Signal and Noise are reported as a percentage of theoretical maximum.
AirPort Inspector shows dBm values when available.
Empty Cache command clears out the AirPort and Bluetooth Radio information.
Spectrum widget is now a universal binary.
29 August 2006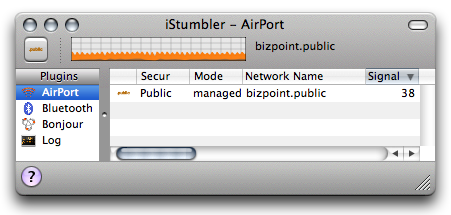 Updated to 'Polished Metal' interface, thanks to Matt Gemmell's TunesWindow, iTableColumnHeader and iTableView packages.
Updated to Sparkle 1.1 courtesy of Andy Matuschak.
Added credits and licensing to the about box.
Added donation nag panel when starting the app, please donate!
15 January 2006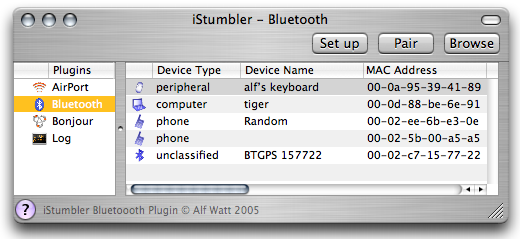 3 August 2005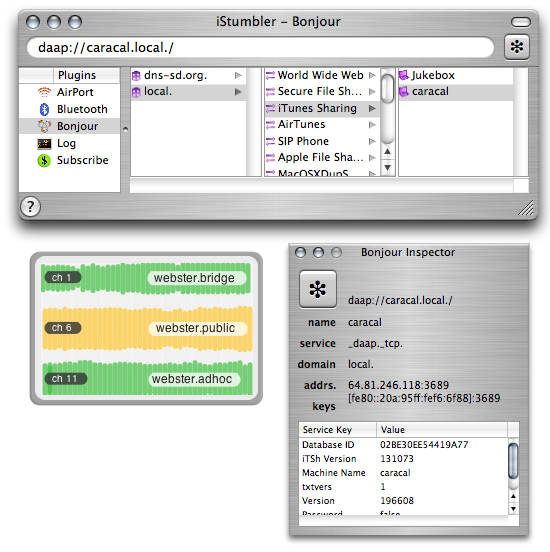 iStumbler introduces the Spectrum Widget for Mac OS 10.4 Tiger
Spectrum Widget: shows signal strength and frequency history for all visible and connected networks.
Spectrum Widget: shows network frequency overlap.
Bonjour Plugin: can now browse wide-area bonjour services
Bonjour Plugin: inspector overhauled, added address and service keys for Mac OS 10.4 Tiger
Bonjour Plugin: preferences, enabled browser mode option
Bonjour Plugin: preferences, added service display option
GPS Plugin: removed from this release for maintenance
Developer: All products are built against the 10.4 Universal SDK
Developer: All products are built for i386 & PPC
Developer: RadioStoreRemote interface for Distributed Objects
Developer: RadioStore Sample simplified for remote usage
Developer: broke the project out into various sub-projects, making it easier to copy plugins and re-use the frameworks.
6 June 2005

Status is back! The status display now responds to the istumbler.status notification
Status fades away over about ten seconds, looks pretty cool
Added status messages for switching plugins
Log now lazy-opens the log file, and will no longer create an empty file each time iStumbler opens
Added help text to preference dialogs, made the default size wider to accommodate more plugins
AirPort plugin can now show the frequency a radio is using
Added formatters for RSRadios & FourCorners Locations
Log now uses the registered formatters to display messages
Log now summarizes multiple entries and displays each item on its own line, properly formatted
Significant overhaul of image handling within iStumbler dramatically reduces the amount of memory used
fixed major memory leak on Tiger
Added Vendor database with more than 800 ethernet and wireless card mfgrs. listed.
Bluetooth and AirPort plugins can now show the vendor of a particular network.
20 April 2005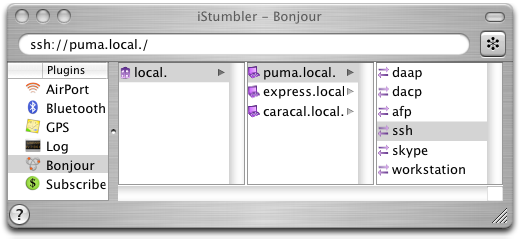 mDNS Plugin re-labeled as Bonjour following Tiger announcement
Fixed GPS serial bug with bluetooth phones
GPS Prefs now allow you to select the serial device with GPS
GPS Plugin now shows a list of known locations
GPS Plugin can place a pin in the list of locations
GPS Plugin can place a note in the list of locations
GPS Plugin automatically records the initial gps point
Tweaked linker settings to get prebinding enabled again
Tweaked icon sizes in AirPort and Bluetooth Menus
Removed debug messages from log
Cleaned up imports in RadioStore.framework
Plugins framework cleanup, better class names and imports
New GPS Framework FourCoorners based on the FourCoordinates framework
Added Plugins Page to Site
Added Developer Pages to Site
20 March 2005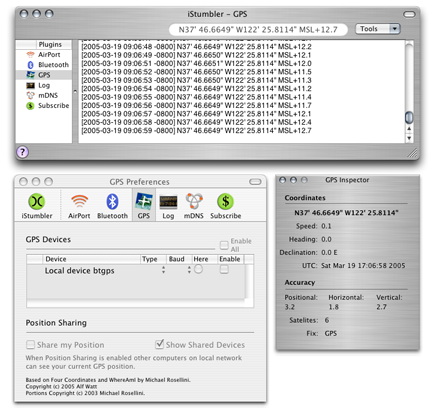 iStumbler can now adjust the text size used in the interface
iStumbler can now adjust the toolbar style for all plugins
iStumbler remembers toolbar style and text size across reboots
iStumbler can now display help on the loaded plugin from the help menu and the help button on the main window.
The ISPlugin class is replaced by the Plugins framework
the Plugins framework adds support for help, home pages & RSS feeds
All Plugins are converted to use the Plugin base class
All Plugins are now configured with property file info
The PluginManager now unloads plugins when the application quits
GPS plugin re-introduced
GPS plugin automatically uses the first serial device it finds
GPS plugin won't load if there are no serial devices on the system
GPS plugin provides a log view of the GPS coordinates
GPS plugin moves the location info to the inspector panel
GPS plugin closes the connection on sleep and reopens on wake
GPS plugin closes the baseband connection to a bluetooth GPS device when quitting or on startup, if it's still open
GPS plugin toolbar includes a location display
GPS plugin toolbar includes tools for displaying the map location on Google Maps, WiFi Maps, A2B, GeoURL and US Census Maps.
Subscriber plugin introduced
Subscriber plugin shows subscribe and shop pages
mDNS plugin can now display unicode host names without crashing
AirPort plugin can now ignore ad-hoc radios when Auto-Selecting
AirPort plugin can now identify and show icons for five different network types: open, closed, open ad-hoc, closed ad-hoc and .public
AirPort plugin's icons are updated and displayed on the join buttons.
AirPort plugin updated the order of tabs on the inspector panel
AirPort plugin updated to track GPS position if available
AirPort plugin updated to improve thread safety
Bluetooth plugin inspector updated to match the AirPort plugin
11 February 2005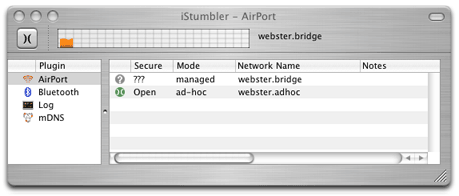 mDNS plugin now removes hosts when they leave the network
mDNS plugin fixes a caching bug when hosts rename
mDNS plugin adds icons for browser items
AirPort plugin adds icons for network types
AirPort plugin menu displays connected networks
AirPort plugin menu displays visible networks
AirPort plugin menu can join hidden networks
AirPort plugin menu can create an ah-hoc network
AirPort plugin menu can turn the radio off and on
Bluetooth plugin prefs. can now scan for linked, favorite, recent or paired devices
Bluetooth plugin menu displays devices
Bluetooth plugin adds icons for the device types
24 January 2005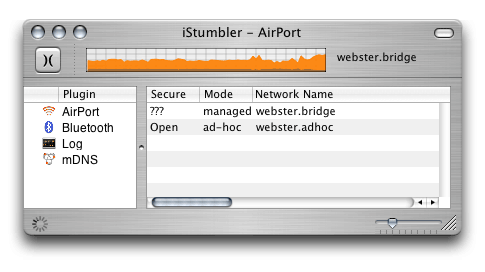 Preferences updated for all plugins
Bluetooth Plugin toolbar & menu items for pair, un-pair, send etc
mDNS Plugin introduced, can browse all service types
mDNS Plugin can connect to service types with url handlers
RSScanner can now run threaded or unthreaded
Scan slider moved to iStumbler preferences and labeled better
New icons
18 September 2004
ISPlugin now offers an ISPluginEnvironemnt which allows plugins access to the application windows and the notifications which other plugins produce to support cross-plugin communication.
LogPlugin can now selectively display or print notifications based on user preferences.
RSSampleGraph can now, configurable, show a background grid.
initial window layout is improved
Another Auto-select tweak to deal with being connected to a network in stealth mode
31 July 2004
ISPluginManager send out notifications when plugins are loaded, unloaded or selected.
the preferences toolbar is refreshed whenever plugins are loaded or unloaded.
auto-select and auto-join logic highly improved.
auto-join will no longer hop networks, it will only join when not connected.
auto-select will always select the connected network before any other.
tables for airport and bluetooth plugin rebuilt to remove display glitches.
added plugin identifier method to the ISPlugin interface.
expanded plugins table to show the plugin info and identifier.
airport plugin noise estimation for 802.11g.
ISPlugin menus are now loaded and displayed by the application.
iStumbler prefs. toolbar selects independently from the main window.
updated the toolbar switch code to make the transition smoother and more predictable.
7 July 2004
New Plugin for viewing Bluetooth Devices
BluetoothPlugin scans for IOBluetoothDevices
BluetoothPlugin shares RSStore & RSRadios with AirPort Plugin
iStumbler plugin views are now inserted into the responder chain when they are loaded.
AirPortPlugin can now display noise for AirPort Extreme networks that you are connected to.
AirPort Inspector expanded to view more details and provide a compact UI
AirPortScanner updated to collect all available information from the AirPort system, including estimated noise values for AirPort Extreme devices
30 April 2004
Release 86 updates iStumbler's plugin loader and introduces the built-in Log Plugin and the optional GPS plugin which integrates iStumbler with any GPS that supports the NMEA protocol over a serial or bluetooth connection.
Updated ISPluginManager to installs plugins private frameworks before loading their bundles. this is a bit of a hack but frameworks expect to be located in the executable Frameworks directory, not the plugins.
Some of the notifications have been updated to include better objects representing the networks scanned or joined.
23 April 2004
Improved synchronization around creation of ISNodes
Added ISNodeStoreForgettingNode notification
ISMonitorController clears when notified of ISNodeStoreForgettingNode
ISAirPortToolbar clears when notified of ISNodeStoreForgettingNode
ISAirPortInspector clears when notified of ISNodeStoreForgettingNode
ISNodeStoreTableView clears when notified of ISNodeStoreForgettingNode
Extensively tested forgetting of nodes on a short timer
21 April 2004
Release 84 completely remade iStumbler into an extensible, high performance and indispensable wireless scanning utility. Plugins provide unprecedented flexibility, aggressively multi-threading improves performance and iStumbler now monitors the network you've joined as well as nearby networks providing twice as much information.
Xcode Project completely rebuilt.
ISEncounterGraphs spawn an update thread when created.
Added ISPlugin interface.
Wrote Built-in AirPort Plugin to test interface.
AirPort Plugin Scans in a separate thread
ISNodeStore can now record information about the connected network
Connected network is both probed and monitored for double the information
ISNode and ISNodeStore are now thread safe.
iStumbler.app is now a simple plugin loader.
Site updated to XHTML 1.1
Copy right notices updated to 2004
site style sheets and layout updated
Moved .public to it's own site
Moved radios to the .public site.
22 November 2003
Preferences are divided up into tabbed panes
New Mini-controls are used where it made sense
metal buttons instead of aqua
Fall 2003

Last jagwire build, no further 10.2 support planned
Preferences are now honored
location preview removed, look in the nib if you really want to know
Version numbers change to serial numbers.
4 August 2003
Monitor now floats above all windows
Monitor is now transparent
Further Map support and location pallet demo
24 June 2003
Implemented monitoring of joined networks
Implemented .public preferences and best network selection
ISEncounterGraph is now completely configurable, and draws scaled charts
The Monitor can now resize properly from very small to very very big
ISNode and ISNodeStore implement methods to forget old encounters and nodes
ISPrefsController fully supports memory preference and correctly sets prefs. UI state at startup.
ISScanController now tells the node store to forget about nodes and encounters as directed in the preferences.
iStumbler's memory use is now constrained and hovers around 70MB under normal use.
ISEncounterGraph now scales to 100%, and the minimum scan frequency is now one second.
selected and monitored node status lines are now updated along with the charts
Added minimize and zoom commands to the window menu
Relabeled 'War Chalk' as 'Join Network' and clear the icon when no network is selected.
Release 0.7b
13 June 2003
Integrated Four coordinates GPS Package
Add approx. GPS location
Added user preferences
Saves window positions
Added option to auto-select networks
Added option to auto-join networks
Added option to enable GPS support
Changed to scan as soon as possible on startup
Sketched out location and monitor support interfaces
Release 0.6b
18 January 2003
Added Info panel for the selected access point
Added type information to access points
Added info field to access points
Added FAQ & Manual pages to the web site
Moved all CSS in site to istumbler.css
Added save and open log features for reading and writing log files
Release 0.5b
30 December 2002
Added graphic histogram of selected network encounters
Added dock menu with extra features and join network
Added ISNodeStore class, remove class methods on ISNode
Reworked Project File, moved classes into Source directory, resources into Resources directory and updated the site.
Window will now freely resize from very small to quite large.
Release 0.4b
23 December 2002
Added class to record GPS Cords
Improved memory management
Simplified controller class
Cleaned up user interface
Added tool bar control for scan frequency
Release 0.3b
12 December 2002
Created a tool bar for all the various tools & info

Scan Indicator
Selected MAC SSID
Selected MAC WEP Status
Selected MAC Signal Bar
Selected MAC Signal Text
Selected MAC Range
Clear Log

Rewrote ALL source and changed the license to a BSD Style. This resulted in further code compression and removal of all unused nib elements and controller classes. Will mean more work adding preferences and sound again, maybe speech as well.
Groomed source, removing a link from ISEncounter to it's node and added copy write and license information to all files.
Release 0.2b
Winter 2002
Created Objects for ISNode and ISEncounters. Nodes are the AP's with their SSID, mac address, channel and other static attributes, Encounters are moments in time when we record signal levels, noise levels and with the help of GPS potentially the location of a measurement.
Each Node will have one or more encounters associated with it. Based on this log of measurements we can display several new pieces of information: the signal strength of a Node over time, which can be graphed or displayed with trending information to indicate direction (closer or further away).
This data-modeling precedes a re-write of the controller classes and scanning code. I'd like to modernize the code-base before adding many new features.
Added Signal and Range Strings to ISNode, along with range detection.
Stripped out most remaining MacStumbler code, prefs, logging and speech are all gone!
The App is much smaller now (267k down from 1.1M!), and loads almost instantly (two bounces tops!)
Change ScanController to ISScanController (IS for IStumbler) to match naming convention.
Release 0.1b
26 November 2002
Added selected AP display with signal strength indicator
General interface redesign
Derived initial source from MacStumbler, named project iStumbler.